Site Selection Consulting Studies
Looking at Several Mexico Manufacturing Cities?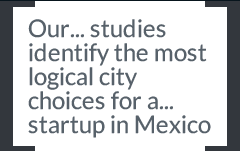 Typically an incoming U.S., Canadian, European, or other foreign manufacturing firm considering a Mexico startup or expansion of services requires an independent study that identifies, qualifies, and quantifies the most logical Mexican manufacturing cities for their needs.
The MSG Alliance delivers Mexico site selection consulting services for manufacturing startups or expansions using our local representatives and unparalleled database of information in every major Mexican manufacturing city and most minor manufacturing locations across the country.
Our geographic coverage includes Tijuana, Ensenada, Tecate, Mexicali, Hermosillo, Nogales, Nuevo Laredo, Reynosa, Monterrey, Matamoros, Saltillo, Ramos Arizpe, Torreon, Chihuahua, Juarez, Queretaro, San Luis Potosí'ed, Leon, Aguascalientes, Mexico City, Toluca, Puebla, Guadalajara, Guaymas, Empalme, and the areas surrounding each.
If your company requires a comparison among three or more Mexican manufacturing cities please connect with us to discuss our Site Selection Consulting services for Mexico:
What do MSG Alliance Mexico Site Selection Studies Cover?
Our site selection studies identify the most logical city choices for a U.S., Canadian, or European company startup in Mexico. Our methodology researches and reports on the following factors (among others):
Labor costs in Mexico by category of position
Labor cost by city
Labor rules and local variances
Labor availability in Mexico by category of position
Labor availability by city
Union environment in Mexico
Union environment by city
Industry clusters in Mexico
Industry clusters by city
Incentives available in Mexico
Mexican incentives by city
Incentives for specific industries
Infrastructure (utility) availability in Mexico
Infrastructure (utilities) costs by city
Logistics costs in Mexico
Logistics costs by city
Supplier base and options
Proximity to key customers
Proximity to key suppliers
Real estate costs in Mexico
Real estate costs by city
Real estate availability by city
And up to 30 additional factors relating to the rules, costs, and realities of doing business in Mexico.
Our report qualifies and quantifies each of these factors (and others) for specific client manufacturing plans comparing each logical city based on each relevant factor and cross referencing using client input on the importance of each decision driver.
If your aerospace, automotive, metals, or other manufacturing firm is making a Mexico site selection decision based on these factors please note that there is an immense variance between the various manufacturing cities in Mexico e.g. certain incentives are only available for specific areas, union environments vary from openly hostile to opportunities to have an in-house union, electrical infrastructure varies dramatically by city… If these and other factors are important to your company please connect with us to discuss our Site Selection Consulting services for Mexico: [hidden email]
MSG Alliance Specific City Site Selection Studies
If your company has already narrowed down the search to a specific city in Mexico we identify all location possibilities including raw land to improve, land with existing infrastructure to construct a facility, existing available buildings, and build to suit for lease opportunities.
Then we compare costs, timing, logistic considerations, labor proximity, utility infrastructure costs & timing, environmental considerations and other city and site-specific factors to enable an informed site decision for your manufacturing startup or expansion in Mexico.
If your company is focusing on a specific city please connect with us to discuss how our Site Selection Consulting services can help identify opportunities and avoid the pitfalls commonly encountered by foreign companies entering Mexico: [hidden email]
Industrial Tours
All services include confidential (if that is your preference) tours of candidate cities, potential sites, and if appropriate, interviews with local plant managers, developers, relevant government officials and such other information gathering as might best serve our client. We also are often asked to put together a broad tour of Mexican industrial cities to give foreign manufacturing executives an on-the-ground 'feel' for what is possible in Mexico's manufacturing arena.
If your team is ready to visit any, all, or a selection of Mexico's manufacturing cities please connect with us to arrange the best possible tour: [hidden email]